the podcast of your wildest memes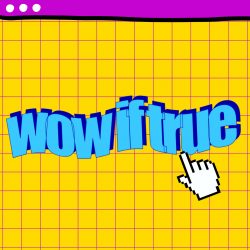 Anyone can be famous on the internet. Why not us?
Wow If True is your one-stop internet culture shop, hosted by meme sommeliers and real-life besties: tech journalist Amanda Silberling and terminally-online lawyer Isabel J. Kim. We dig into what, where, and how something's going viral, and why what's happening online matters in real life. New episodes every other Wednesday.
We're IRL besties who spend too much time URL. 
Amanda is a tech journalist who spends her days analyzing how the internet affects us, and Isabel is a lawyer/award-winning sci-fi writer. We mesh our professional expertise and our curse of being terminally-online to talk about silly digital phenomena in an intelligent, thoughtful way.
Every other Wednesday, you can find a new episode anywhere you listen to podcasts, like Spotify or Apple Podcasts. 
Follow us on social media
Subscribe to us on Patreon!
This independent podcast is a labor of love. If you like what we do, support us on Patreon to help us cover the costs of producing, editing, and hosting a podcast. We'll mail you a friendship bracelet. But actually.