the podcast of your wildest memes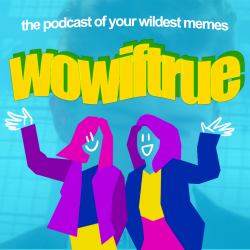 Anyone can be famous on the internet.
Wow If True is a super-serious plunge into what it's like to go viral online, hosted by writers Isabel J. Kim and Amanda Silberling. Every Wednesday, these clout-chasing, D-list internet personalities dissect the week's best memes, interview people who are internet famous, and plot their own misguided quest for niche popularity.
We met in college, where we collaborated on an art-activism project that went viral (Ashton Kutcher noticed us). We may never again reach that level of internet fame, but we're obsessed with people who do.
Now, Isabel is an unknown writer by day and a niche-famous fanfiction writer by night. Amanda is a journalist, but she writes more tweets than articles. 
There was also that time when we got a cease & desist letter from our local public transit authority, but we don't talk about that for legal reasons.
Every Wednesday, you can find a new episode anywhere you listen to podcasts, like Spotify or Apple Podcasts. 
Follow us on social media
Subscribe to us on Patreon!
This independent podcast is a labor of love. If you like what we do, support us on Patreon to help us cover the costs of producing and hosting a podcast. We'll mail you a friendship bracelet. But actually.